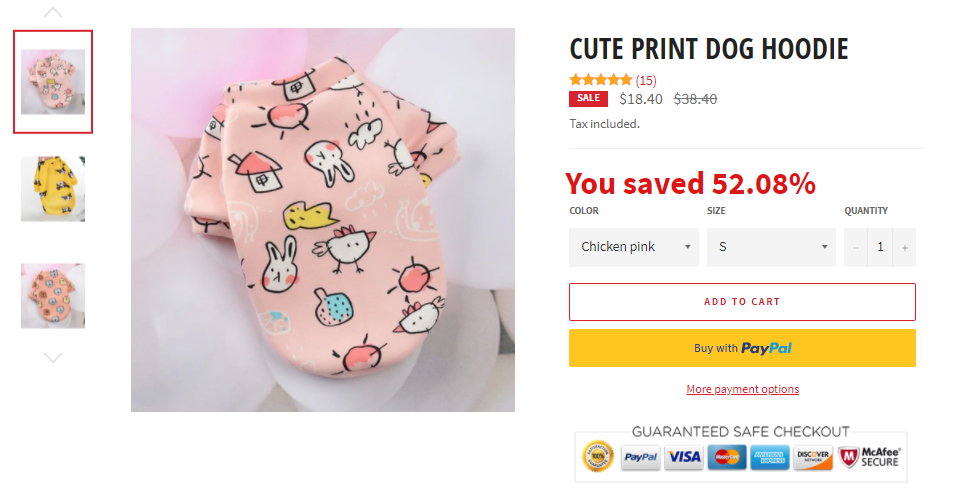 Season: Autumn/Winter
Pattern: Print
Name: Cute Print Small Dog Hoodie Coat
Color: Green,Blue,Pink
Size: XS-10,S-12,M-14.L-16,XL-18
Suit: Shih Tzu, Chihuahua,Shih Tzu,Maltese,Poodle
"I bought these super cute hoodies for my baby Yorkie when it started getting cold in our area. It pained me so much to see her shivering in the cold, so I looked around to see which ones I'll order.
These are probably the cutest ones I've seen and I'm really glad I ordered here. It's also pretty good quality, the fabric does not feel thin and cheap like the other puppy hoodies I've ordered in the past from other stores. The inside of this hoodie is lined. My dog does not wear clothes very often, but she comes to work with me when it's pretty cold.
It is also helpful when we go out for camping and it is chilly especially in the mornings. I am not quite sure how warm it is keeping her, but it is absolutely better than nothing at all. One more layer of clothing does more for an animal with a fur coat than a lot of people think.
Then again, I'm still laying a blanket over her when she's in his bed and it's pretty cold. But what's most important here is that she has an extra layer of warmth and she's comfortable. She usually hates wearing dog clothes and just mopes until we take them off her but she's very comfortable in this and has no issues wearing it.
She has only had it on for like, a handful of times but she already comes and stands still for me to put it on her in the mornings, so I think she really likes it! I'm also going to try using it as a thunder-shirt during the summers since it is pretty snug and she hates the actual thunder-shirt. All in all I am very happy with this purchase.
Money spent is worth what received. I definitely recommend this. I've actually placed another order so my dog would still have a hoodie to wear when the other ones are in the wash. "More great Ideas for ShihTzu.