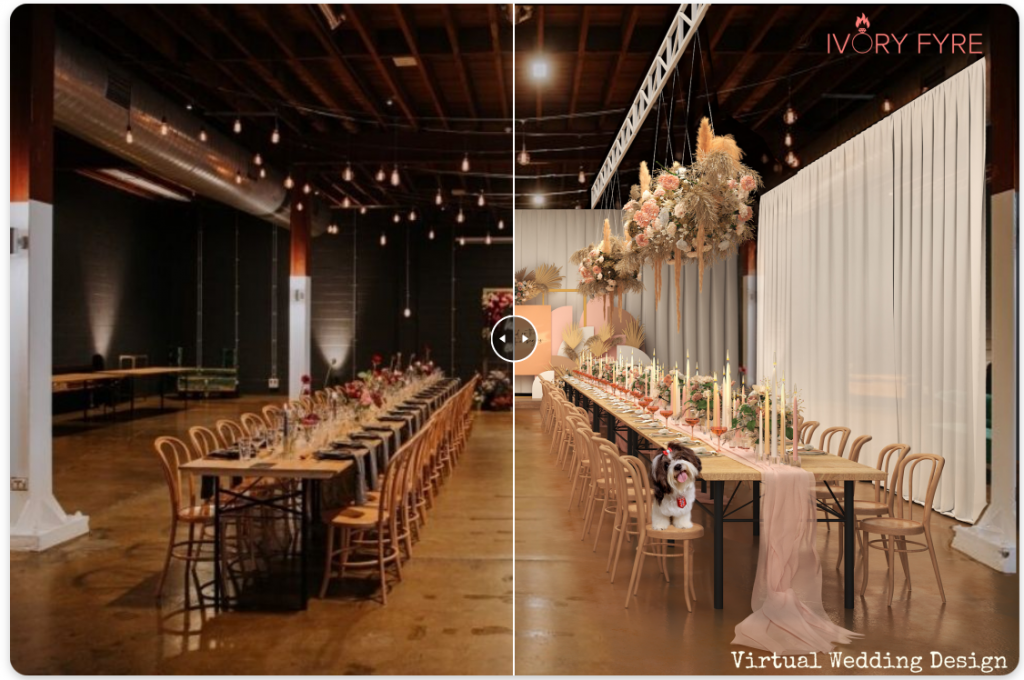 Shih Tzu on Your Wedding Day
How wonderful is it to be surrounded by all your loved ones on your wedding day–including your beloved fur-baby?
In a perfect world, every wedding celebration would have the couple's pet, donned in a delightfully cute miniature formal outfit, accompanying them up the aisle. Still, unfortunately, reality bites and this endeavor is not always practical.
Nevertheless, there are still a lot of creative ways to include your dog in your wedding, such as allowing him to make a cameo appearance or celebrating him in photos of your invitations, save the date, and other wedding paraphernalia.
Pets at weddings pose a lot of issues, so couples need to keep their (and their coordinator's) creative juices flowing about how to include their furry friends in their once-in-a-lifetime big day.
Now, before you get drunk with the idea of your Shih Tzu ring bearer, start by envisioning your pets into the design of your wedding venue.
Ivory Fyre offers a photo-realistic, virtual wedding design so that the brides and grooms can see their venue set-up — with their fur-baby, of course, before the actual wedding day, a great example is above, of the 3D VIRTUAL Wedding set up featuring the couples Shih Tzu.
Having your dog become part of your wedding entourage is indeed a major challenge, but we're here to help you out! We have put together a list of ideas for Shih Tzu owners to have your cuddly sidekick participate in your wedding. Ready to see some pawsome photos of Shih Tzus at weddings?! Let's dig in!
1. Mention Them in the Ceremony
Start thinking honestly about your dog's personality and temperament. Is he happy to meet and greet everyone and all of you? Does he have at least a couple of commands nailed down, particularly important ones like "down," "stay," and "sit"?
Does the sight of a crowd make him whirl in a frenzy? Or is he more reserved, shyer, or frightened by strangers? It is important to know what your dog will or will not be enjoying it. Dogs with anxiety or socialization issues are likely to RSVP "no."
Don't worry, though, because you can still include them in your day! One of the simplest ways to pay tribute to your beloved pet is to mention them at your ceremony, either in your vows or by dedicating a special animal poem to them. You could also save a seat for them in front of you with a framed photo. That way, they're still with you in spirit during your big day!