We all know that Shih Tzus are adorable little dogs, and now you can see how much they love their new dog bed.
Rest is important for all living creatures, even for animals as adorable as the Shih Tzu. For them to get enough rest, they should be given a dog bed, like the one in this video. Shih Tzus are a little bit on the shy side, and they're also known to be lazy. They love to sleep, and so do most dogs. That's why dog beds are very important for their restful night's sleeps.
To choose a dog bed for your Shih Tzu, you should be very careful. Not all dog beds are the same. Some offer a lot of comfort, which is best for your pet's well-being. A bed that will make your Shih Tzu feel secure can help them sleep better at night. They'll also show you how grateful they are in the morning when you wake up to their little smiles and waggy tails!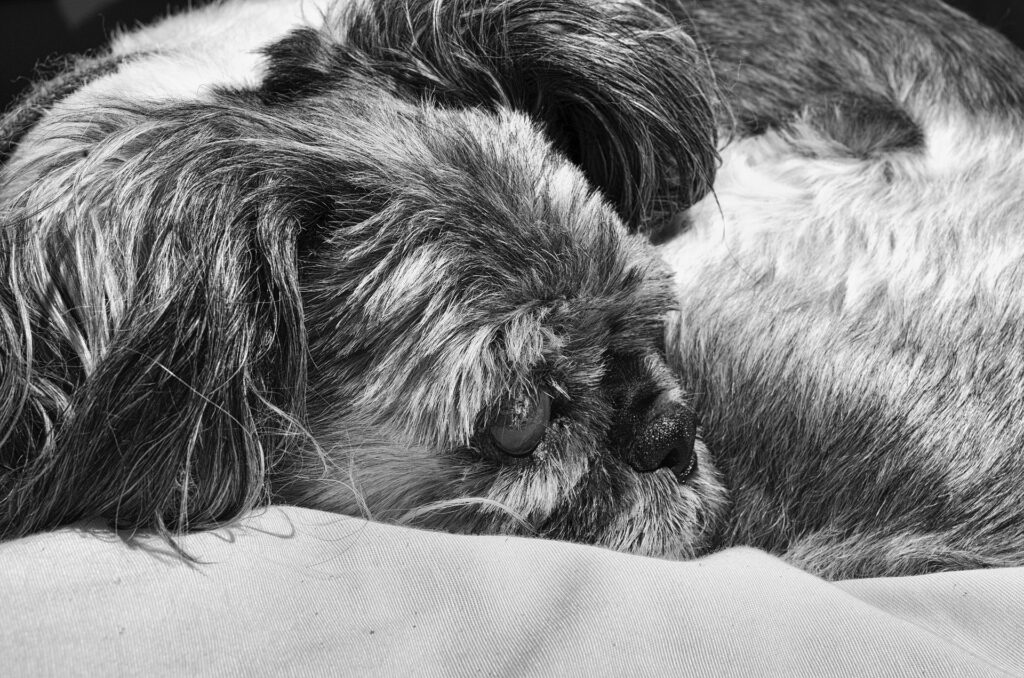 Dog Bed
Other important things to consider when choosing a dog bed for your Shih Tzu include the material used as well as its size and shape. For example, if your dog is still growing, a small size might be more suitable than a large one. On the other hand, if you have an adult Shih Tzu who feels too cramped in a small-sized dog bed, then a large one would be more fitting.
For your Shih Tzu to lay on a dog bed and sleep comfortably and safely without the need to get up, you should consider the material used for it. The frame of the bed needs to be sturdy enough so that your pet won't feel like it will collapse or cave in when they're lying on it.
Also take into consideration if the fabric is soft enough to make your pet feel comfortable. Also, keep in mind that aside from its size and shape, you have to look at your Shih Tzu's weight as well since he could break the frame if he feels too heavy on it.
In choosing a dog bed for your Shih Tzu, it is important that you also look at its shape. For example, a dog bed in the form of a basket would be suitable for those who like to hide when they're sleeping. If your Shih Tzu likes to sleep on his side facing a wall, then a rectangular or square-shaped one might be the one!
On top of that, there are times when your Shih Tzu might want to play or cuddle up with their furry friend on the same bed because all dogs love companionship. If they can snuggle with their canine friends on the same pet bed while napping together, then this would make them even happier! So this way, they don't have to get up from their resting place just to go somewhere else.
If your Shih Tzu wants instant warmth or coziness, then a heated dog bed would do just fine for him. Your pet will love how warm the heat can make their body. They'll also feel as if they're in heaven when lying down on the heater and resting well!
So having a bed with an electric heater will help your Shih Tzu get better rest, especially during the cold nights and winters.
| IMAGE | PRODUCT | DETAILS | BUY |
| --- | --- | --- | --- |
| | Washable Round Dog Bed | 3 inches Anti Anxiety Round Fluffy Plush Faux Fur Cat Bed, Fits up to 25 lbs Pets, Camel | View Product |
| | Bedsure Bed for Medium Dogs | Washable Cover, Waterproof Lining and Nonskid Bottom Couch, Pet Bed | View Product |
| | Deluxe Plush Soft Pet Beds | Washable Dog Crate Mat for Large Medium Small Dogs and Cats, Fulffy Kennel Pad 36 inch | View Product |
| | Waterproof Dog Beds for Large Dogs | Up to 50lbs Medium Dog Bed with Removable Washable Cover, Pet Bed Mat Pillows, Grey | View Product |
| | Veehoo Cooling Elevated Dog Bed | No-Slip Rubber Feet for Indoor & Outdoor Use, X Large, Black Silver | View Product |
Protect your pets from those unexpected illnesses with no limits on payouts. Get a quote and make sure you're covered for those dog and shihtzu mishaps and unpleasant surprises.