Cute Shih Tzu – What does your Shih Tzu like? Playing/ treats/ cuddling? Yes, they do; but to them, nothing is better than a good belly rub!
They absolutely love it. Shih Tzu loves attention, and to them, it is the best way you can give them attention.
Not only that, but there are also other explanations for the same.
Why does your Shih Tzu love a belly rub? – Know the science
There are brain neurons that react to stimulation created by hair follicles. The belly area is very sensitive to touch, so when you rub them, it helps them to relax and feel loved. Also, this makes them feel more connected to you.
So, if you see your munchkin asking for some belly rub, do give them that!
Dr. Margaret Gruen, a Diplomat of the American College of Veterinary Behaviorists, explained – when they let you do this, it means that they have immense trust in you.
When canines lie down on their back showing their belly, this is a posture of vulnerability. You will certainly not see them doing this in front of strangers or whom they don't like.
Want to see how adorable Shih Tzu asks for one? Check this video:
While giving a belly rub, there are certain things that you need to keep in mind. Here you will get some idea regarding this.
What are the things to keep in mind while giving your Shih friend a belly rub?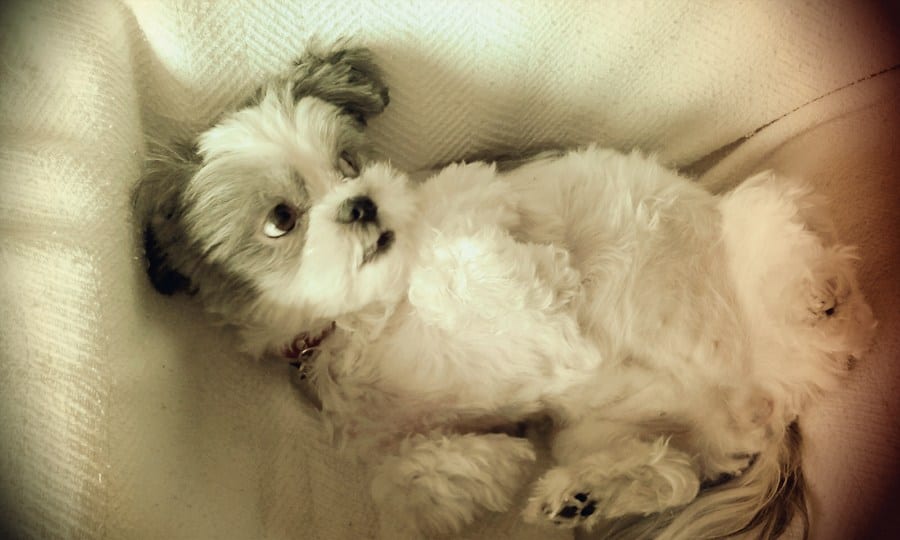 There is no doubt that they love this, but are you doing it right? No, there is no technique to do this. Still, certain precautions are required as their belly area is quite vulnerable.
Don't put too much pressure.
It should be strokes or rubs, avoid scratching.
Don't force them to roll and give a belly rub. They feel threatened.
See if your pup is growling during a belly rub. If so it can be a sign of some sickness or illness.
Now that you are an expert in the belly rub field; make your Shih Tzu feel happy!
Protect your pets from those unexpected illnesses with no limits on payouts. Get a quote and make sure you're covered for those dog and shihtzu mishaps and unpleasant surprises.