5. Practical Top Knot
This is another ponytail style very similar to the above, but here, the body hair is more trimmed. Rest is quite similar. This Shih Tzu haircuts is better during the summer as it will help them to regulate their body temperature better.
Styling Tip: More pretty hair clips! And you can even try braiding the hair (especially if you have a Shih Tzu girl).
6. Flared bottom Style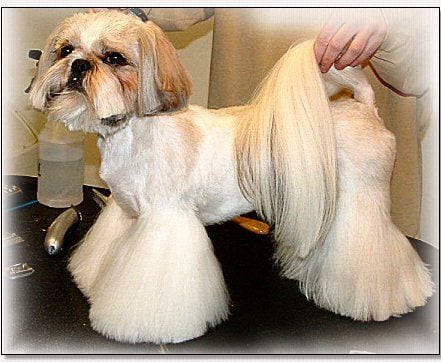 It is a very interesting Shih Tzu haircut, where the body is trimmed to 3 inches and the hair on the legs and tail are kept long. In this style, you need to keep the facial hair long too, to get the best look for your cute pup!
Styling Tip: Trying braiding the head hair and rest, leave it on the style!
With all of these styles, your Shih Tzu is ready to rock the fashion world. Don't forget to post the after grooming pictures!
Protect your pets from those unexpected illnesses with no limits on payouts. Get a quote and make sure you're covered for those dog and shihtzu mishaps and unpleasant surprises.